Tagless Neck Tags
Do you want to brand your shirt and make it a marketing tool? Of course you do! Then you need inside tagging. In this process, we remove the tag from the shirt and replace it with a screen printed tag that has your logo on it. It makes the shirt recognizable 100% to your company, and changes it from 'just a t-shirt' to a marketing strategy. It's a step up in professionalism, and makes you look like you are totally on top of things (which you are).
A Few Caveats
Not all shirts de-tag cleanly. If the shirt has a surged edge, instead of a folded seam, we cannot remove it completely without leaving a hole behind. If having a bit of tag visible is a deal breaker for you, please order a sample shirt before placing your order!!
This will add a day or two to your production time. As with every order, we recommend you give yourself (and us!) as much time as possible.
Note – on lighter garments, we recommend using a lighter ink color (Cool Grey 3) since ink shows through the fabric much easier.
Heads Up
There is some info you are required to put on the inside tag by federal law. They are: country of origin and fiber content.
Please provide tags that accurately reflect this info. In some cases, you may need to provide additional art for your tags after the shirts arrive— mostly because we don't always know where the shirts will be made.
Pricing
36 PIECE MINIMUM PER DESIGN
SETUP FEE: $5/per size per design
(Adds 2 days to production time.)
36-47: $2.50/ea
48-99: $2.00/ea
100-199 $1/ea
200-499: $0.55/ea
500 and up: $0.45/ea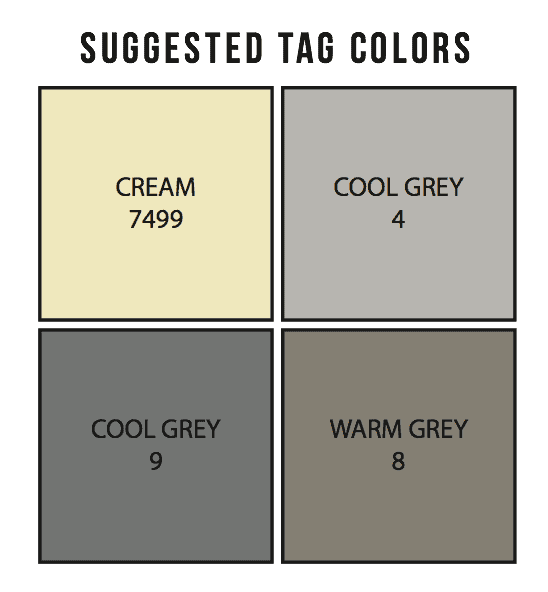 Opaque White Ink- Add $.35/ea.
Why? We screen print our inside tags using a special small format automatic printing press. To get an opaque white, we need to run the tags through twice. This still doesn't yield a truly solid bright white, so we end up screen printing the tags onto transfer paper and heat pressing them on. Basically it's more steps and more work, so more money!
Sweatshirts – Add $.35/ea.
Fleece is very difficult to print on. We prefer to use transfers as they yield a more solid print.
Transfers – Add $.35/ea.
Some customers prefer the way a transfer sits on top of the shirt. They have a more opaque look vs. a direct screen print. Since we need to make transfers and then press them on it's a much slower process so it costs a bit more.
NOTE- Any of the above 3 options can be combined for a one time charge of $.35/ea. Example, if you do a transfer on a sweatshirt, it's just one charge of $.35/ea.
Tag Printable Area: 3.25″ Wide X 4″ Tall