As much as we like to automate things in this industry, the human touch is still a very real part of the process. Yes, machines can do quite a bit now, but shirts, despite popular opinion, are still very hand made. There will always be a slight fluctuation, and each shirt is still unique, even in just the slightest way. But even more unique than the shirt itself, is the worker behind it. Nearly two billion t-shirts are made every year, and a large portion of these shirts are made by people in sweatshop conditions, for a wage that does nothing to offset their actual cost of living.
This fact is something that leaves companies like us with a large sense of responsibility to not only be aware of the situation, but to actively seek ways to combat it. That's why we helped found the company Allmade Apparel, that is disrupting the vicious cycle. Allmade has set up shop in Haiti, where the average worker earns only $3 a day to often support an average sized family of 8. This leads to a large number of orphaned children surrendered by their parents because they can not afford their most basic needs.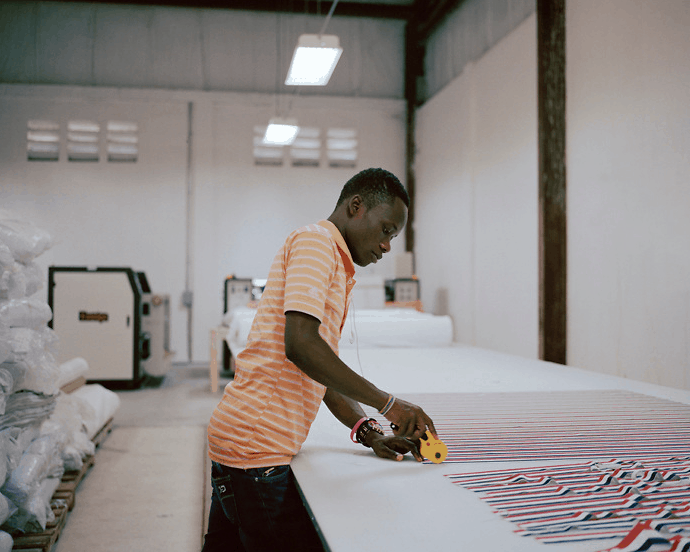 So to make great shirts, and also help the workers and their families, Allmade has partnered with the Global Orphan Project to not only produce great quality shirts, but also fight generational poverty in Haiti. They pay workers five times the usual rate in the area, which is an amount specifically calculated to meet the basic needs of a typical Haitian household. Every single penny of these profits are dedicated to programs that support orphans, and this is only one of the many programs that The Global Orphan Project has in the works.
Another one of these projects is the Transition Academy, which is designed to assist children that are aging out of community-sponsored care with housing, education, and vocational skills. The Academy offers majors in Agriculture, Diesel Mechanics, and Apparel, and currently seventy students are enrolled. The students that are on the Apparel track learn hands-on skills at the GOEX facility where Allmade shirts are produced. Seven students are currently on this track with bright futures to continue, and eight have already passed the program to work full time at the facility.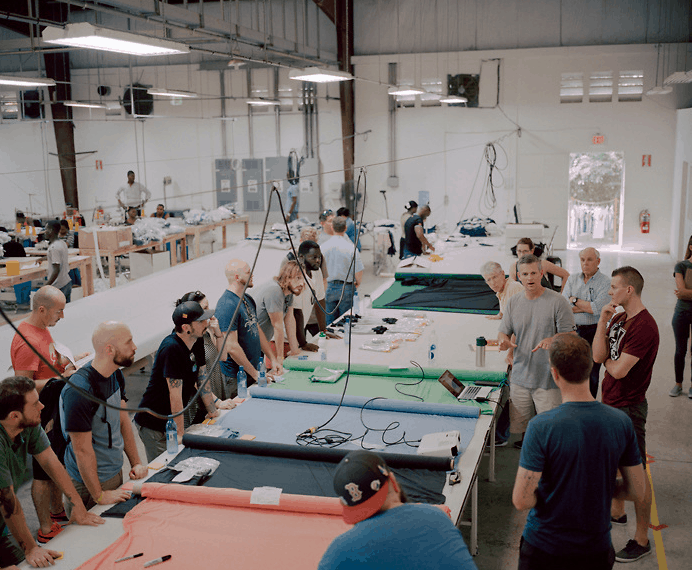 And these shirts aren't just good for the workers, they're good for the environment too. Each shirt is made from organic, non-GMO grown cotton, sustainably harvested modal, and recycled polyester yarn made from water bottles. Each shirt is made up of roughly 3 bottles! A typical t-shirt will also travel 16,000 miles before it even gets sold, and most of this shipping is done using bunker fuel, a heavy oil residue that is so toxic that most countries won't even let ships using it within 200 miles of their shore. But with Allmade, Haiti is only a half hour flight from Miami, and that's as far as the shirts go.
Our team frequently takes trips to the facility in Haiti, and we have another one coming up in just a few weeks. We're very excited to be a part of this team, and to not only raise awareness about the harmful conditions surrounding large apparel companies, but to change the system directly. The company is currently funding their next steps with an Indiegogo campaign, and we'll be sure to keep you updated as the Allmade story continues. But until then, donate if you can, spread the word, and sit tight, because their shirts will be available to use for your orders with Barrel Maker. We hope you'll join us in supporting this amazing company.