If you're not familiar with all the details of screen printing, the different options available to you can seem kind of overwhelming. Ink is just one of the many parts of a print job that can make or break your final product, so it's important that you're using the right ink for the right project. The color or fabric of your shirt and the color of your ink may pose certain challenges, so here's a run down on what ink works best in what situation.
One of the first details you'll want to be familiar with is the feel of the ink on the shirt. In the printmaking industry, it's known as hand. There are 4 main categories of inks, each with a different hand, and different pros and cons for each use: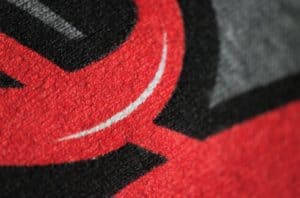 Plastisol:
Plastisol is the standard ink in the industry. Its base is plastic and sits on top of the fabric, with little to no absorption into the textile. It has a glossier finish and because of the thicker consistency of the ink, it's suitable for almost any fabric. However, this ink definitely works best on heavier duty fibers, since it has a significant hand and can feel a little stiff and plasticky if you're laying down a lot of layers. So if you're printing a more detailed design on a lighter fabric, or you're just looking for something that's much softer to wear, plastisol may not be the best option for you.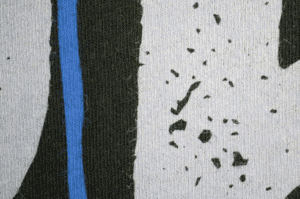 Waterbase:
Here at Barrel Maker, water base is our favorite ink type. It's soft, it's eco-friendly, and it produces a much more matte finish. What makes this possible is that the ink actually changes the garment permanently by dyeing the actual fibers of the garment, instead of just covering it like plastisol does. However, the drawback to this ink type is that it's harder to achieve a good opacity of ink, meaning this may appear fainter and slightly underwhelming on darker fabrics. And while there are more recent developments of water base inks that can print dark shirts, they will still have a pretty hefty hand, because you still need to stack a lot of ink on the shirt to make it visible— which kind of contradicts the whole soft vibe that water base ink has going for it in the first place. So, if you'd like a soft print but have a light shirt, water base is for you. But fear not, if your shirt is dark and you're still itching for that soft hand, there is another option!
Discharge:
Discharge inks are the best solution to getting a soft hand on dark fabric. It works through a fancy chemical process that bleaches out the dye on the shirt to revert it back to its original color before it was altered by the shirt manufacturer. However, if we add pigment to that ink, it will then dye the fabric of the shirt while we print it. These inks will have a slight hand before being washed, but then after the very first wash will have absolutely no feel at all. The ink becomes part of the fabric, and the soft print you always dreamed of will be yours to keep. But, and I'm sure you saw this coming, like all inks, discharge has a few exceptions as well. Discharge ink only works on cotton and bamboo, so shirts that have other materials like polyester or rayon will get more varied results, especially when it comes to color. It's much harder to match exact colors with this process, so if you need a brand-specific PMS match, this option is probably not for you.
Hybrid:
But if you're still looking for a print on a dark shirt with a soft feel, need an exact color match, AND have fabric made from something other than cotton or bamboo, ask for a hybrid approach. In this method we use waterbase or discharge ink as an underbase (which can basically be simply explained as a white primer under your design) and then we overprint it with plastisol. Since white is the bulkiest ink, this method creates a much softer print after a couple of washes, but will still retain the vibrancy and PMS matching of plastisol. Problem solved!
All of us here at Barrel Maker work everyday to help our customers learn as much as they can about the print process. The more you know, the better our dialogue will be, and the better your print will become. You know, knowledge is power, power is pizza, pizza is love, etc. We really hope this helped. Now go out and make the best shirt you can.